Amidst a seemingly post-apocalyptic landscape of gray ash and charred trees, green grass pokes from scorched earth.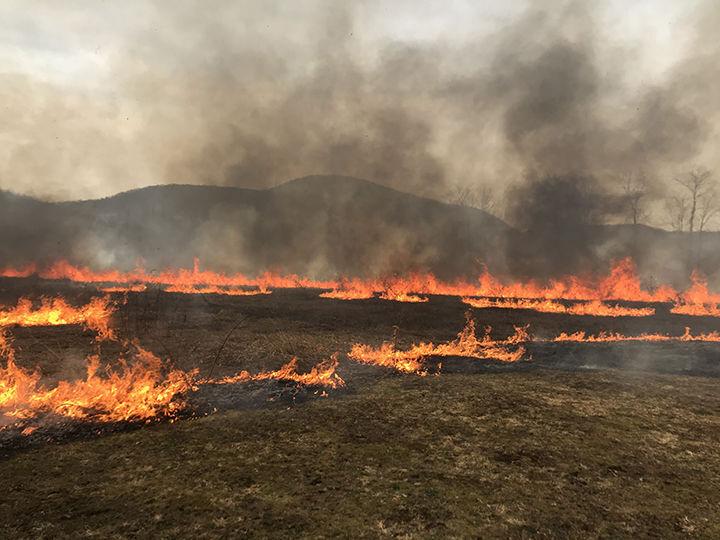 "This is the goal," said Brian Plume, wildfire specialist with the DCNR's Bureau of Forestry, pointing out new growth at one of the local district's controlled burn sites throughout the county. "There's a lot of different reasons for a prescribed burn. Sometimes we're trying to get rid of invasive species that overtake ones we want to grow, or we're trying to get grass to grow again for wildlife habitats. Then there's other objectives like safety training."
"Sometimes we'll have oak trees already established on the forest floor, but they're overtaken by other undesirable species," added Ben Carlson, assistant district forester. "Prescribed burns help everything have a level playing field to grow. We've had some great results from this."
The district's largest recent burn site, about 146 acres atop a mountain off Shin Hollow Road in Gaines Township, is seeing such results. Recently, Plume and Scott Miller with DCNR surveyed the work there, pointing out trees that withstood the flames, where equipment and water trucks were stationed, the holding line where crews kept the flames from spreading outside the desired location and a fence erected around the perimeter to temporarily keep deer from eating the new grass.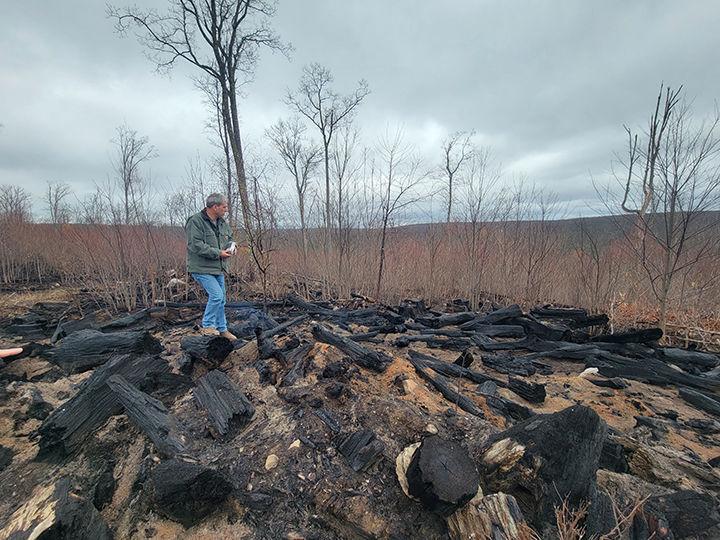 At another smaller site down the mountain, burning invasive species allowed milkweed to make a comeback, to the delight of butterflies. And, at the Cavanaugh Nature Trail access on Marsh Creek Road off Route 287, bluebirds are making a comeback after seven acres once covered in dead grass and brush was burned in late March.
"Often times, people just see a big plume of smoke over the trees and can't understand why we're purposely starting a fire," said Plume. "But it's for the benefit of the environment and wildlife. Burning is natural and has been occurring for thousands of years; it's about knowing the difference between good fire and bad fire."
Plume and Carlson worked on a district-wide prescribed burning plan for several months last year, resulting in detailed individual plans for 13 sites, some of which will have to be burned every two to three years to maintain desired outcomes.
"Legislation in 2009 laid out framework with the steps that have to happen with a prescribed burn. As a result, there's a Prescribed Fire Council for the whole state," said Plume. "It's all very well planned. It really takes the same amount of planning for a one-acre prescribed burn as it does for 400 acres."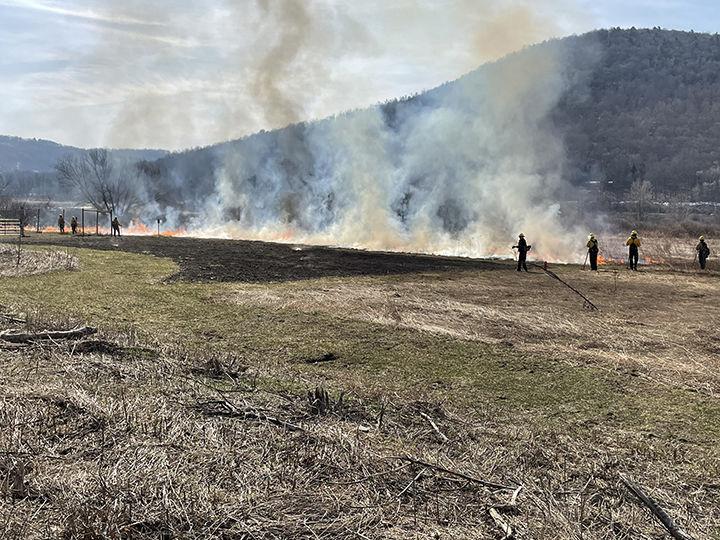 Each site's individual plan includes maps of the burn perimeter and contingency line, objectives for the burn, a response crew, parties to notify, the complexity of the operation and what conditions have to be met to burn, such as weather and wildlife cycles.
"For example, some areas we can't burn after April 15 because that's around when rattlesnakes come out of their dens," said Carlson.
In the district's plan, each site is assigned a burn boss who oversees the entire operation, usually Plume, a holding boss responsible for keeping the fire to its desired location and a firing boss responsible for ignition techniques.
Carlson, a certified firing boss, uses several techniques to start controlled fires such as flare pistols, drip torches and the aptly named "dragon eggs" — ping pong-type balls filled with compounds that when loaded into special guns, cause a chemical reaction and spark.
While Plume largely discourages private property owners from carrying out a large controlled burns, all planned burns should be reported to the Tioga County Department of Emergency Services at 570-724-7911. That way, local fire departments are aware if calls are received, and resources aren't stressed by responding to controlled burns as emergencies.